CSBG Archive
Comic Book Urban Legends Revealed #36!
COMIC URBAN LEGEND: Batman and Superman began to team-up because of inflation
STATUS: True
It's amazing to note that Superman and Batman, who are probably the most famous superhero team-up pair, did not have a SINGLE team-up in the first THIRTEEN years of their shared existence (except, of course, when they appeared in the Justice Society of America together).
This was especially odd when you consider the fact that the heroes shared a magazine since 1941!!
World's Finest Comics made its debut in 1941 under a DIFFERENT title, World's BEST Comics.
The very next issue marked a change to World's Finest Comics, and the comic was 100 pages for 15 cents!
The format was a pile of stories starring a variety of heroes, but always one Superman story and one Batman story. The heroes never appeared TOGETHER, though, except for the covers – and the covers were often quite fun.
This was the standard until 1954, two years after Batman and Superman's first ever team-up, in the pages of Superman #76, where the heroes learned each other's secret identities (talk about an interesting FIRST team-up!!)…
In World's Finest #71, in 1954, Batman and Superman had the first of many team-ups.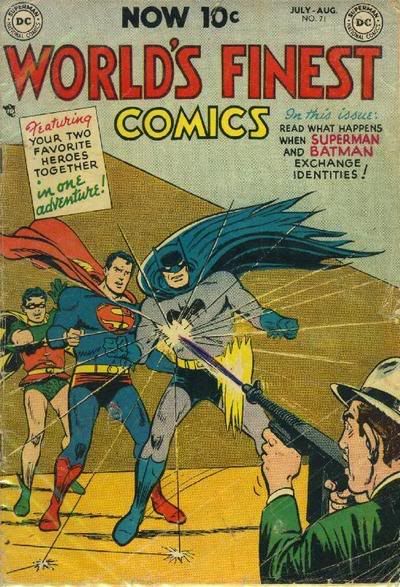 However, the reason WHY they teamed up was because of inflation!
Here's a good time to explain how comics used to deal with inflation back in the Golden Age. Rather than raise prices, what publishers did was to reduce the SIZE of the comic, in both size of the actual comic and amount of pages. For instance, World's Finest had 100 pages through #9, 92 pages through #12, 84 pages through #18, 76 pages through #54, and 68 pages through #70. In addition, the height and width of the comic slowly shrunk as well.
Well, with #71, the book made it's biggest jump, from 68 to 36 pages. At this point, the book did not have ROOM for both a Superman AND a Batman story, so instead, they decided to team the two heroes up, and that was the way the book continued (except for a short period in time where World's Finest became a Superman and ____ book) until the book finally ended right before John Byrne's Man of Steel revamp.
Thanks to Michelle Nolan's fine column for providing the page size information.
Well, that's it for this week, thanks for stopping by!
Feel free to drop off any urban legends you'd like to see featured!!